What is an RESP account?
An RESP account is a registered education saving plan account.  Contributions can earn a 20% grant (or more) from the government.  There is no tax receipt issued for the contribution.  No income is taxable in the account.  Withdrawals are taxed in the hands of the student and contributions can be withdrawn tax-free.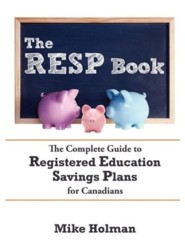 RESP contribution rules for 2011
The basic rules are as follows:
The child must have a SIN number and be a Canadian resident to have an RESP and receive the grants.
Every child accrues $2500 worth of "grant eligible" contribution room per year starting in 2007.  Only $2000 worth of contribution room is accrued per year before 2007.
Any contributions made in excess of the "grant eligible" contribution room are allowed, but won't receive any grant.
All "grant eligible" contributions will receive a 20% grant.  This grant might be higher for lower income families or in certain provinces.
Each year you can contribute up to 2 years worth of contribution room – one for the current year and one for past years where contributions were missed.
Maximum amount of grant per child is $7,200 for their lifetime.
The last year a child can receive a grant is the year they turn 17 subject to certain conditions.
Maximum amount of lifetime contributions that can be made to a child's RESP is $50,000.
RESP withdrawal rules for 2011
Student must attend a qualified post-secondary educational facility as determined by the government.  This rule is quite reasonable in that it encompasses trade schools and pretty much any kind of training.  A recent change allows part-time studies to count for RESP withdrawals.
Contributions can be withdrawn tax-free.  Everything else is taxed in the hands of the student.  You can direct your financial institution whether you want to withdraw contributions or earnings.
To get money from the account you just need to show proof of enrollment at a qualified institution.  You can then spend the money on whatever you want (books, tuition, booze etc) since you don't have to show receipts for anything.
If the child doesn't go on to post-secondary education, the account can be transferred without penalty to a close relative (ie brother or sister).  Otherwise the account can be collapsed and there will be penalties on the non-contribution portion of the RESP account.  There are ways to minimize the hit especially if the owner of the account has unused RRSP contribution room.
More detailed RESP information
Check out the RESP rules page for a list of more detailed RESP articles on this site.