A new bike rental service called BIXI opened up recently in Toronto serving the downtown core. The same company also offers this service in Montreal where it started.
The idea is that there are racks of rental bikes in different areas which are available for rental.  You get a bike out from one area and can return it to the same spot or a different rental spot.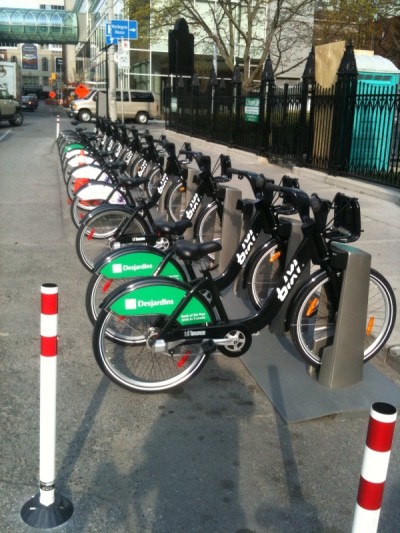 Memberships can be bought which range from one day ($5) to one year ($95).  With the membership you can use the bike for up to 30 minutes at a time without any extra charge as long as the membership is still valid.
I think it's a neat idea, but I'm not sure how popular it will be.
Regular riders (like myself) – They have their own bikes.
Tourists – Maybe, as long as they don't have too much to carry.
Shoppers –  No, it's too hard to ride a bike with shopping bags.
Commuters – This would seem to be the most likely, although it really depends on how far away they live.  Someone living in a downtown condo might choose to ride rather than walk for 20-30 minutes.  Renting a bike could be easier than lugging it up to their small condo and trying to store it in their living room. Another possibility is that people commuting from Union Station to their office might prefer a bike to the subway or streetcar.
Can you think of anyone else who might use this service?  Keep in mind that there are a ton of transit and taxi opportunities available in the downtown area.
Brad Hurley from Montreal has used the service and thinks it's great. 
Despite the fact that Montreal has one of the the highest levels of bike ownership per capita in North America, Bixi has been an incredible success here. When you go downtown you see Bixis everywhere — some of them are tourists, of course, but a lot of them are locals, including many hundreds of commuters in suits.
Bixi is a combination of the terms "bicycle" and "taxi," and it's really meant to replace short trips that you might otherwise take by taxi. I don't know how many people really use it as a taxi replacement; I think it's just a convenient form of transportation.

The network here in Montreal is great, there are smartphone apps that let you see how many bikes are available at each station in your vicinity (and the stations themselves will give you that information), the bikes are easy to use, and the system just works.

The other thing to note is that some people have gotten rid of their bikes once the Bixi system was established, because many people have no room in their apartments for a bike and if they leave it locked out on the street it's likely to get stolen or vandalized. Bixi avoids all that — there have been a few cases of vandalism but a lot less than you might expect.
Has anyone here used it?   Would it work in your city?  Please let me know what you think in the comments.
Here are some other articles about BIXI in Toronto and Montreal: