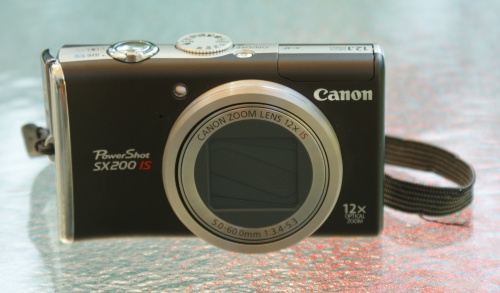 I recently picked up a new digital (what else?) point and shoot camera. I've been the happy owner of a Canon Digital Elph from 2002 (2.1 megapixels) but in the last few years it started to fade. The battery doesn't work as well and the speed of the shots, particularly inside photos was very slow – up to several seconds. This is tolerable for landscape scenery shots but for toddlers it just doesn't cut it. Often we would try to take a photo of one of the kids and by the time the camera got its act together, the toddler would be in the next room.
Our solution was to buy a Sony DSLR A350 camera (which will be the topic of another post) because they are very quick. The drawback of the DSLR is the size – it's like lugging around a separate piece of luggage if you go somewhere. It occurred to me that some of the great features of our DSLR like the anti-shake function should be available on a point'n shoot as well. I thought if I could get a camera that would take better pictures than my old Canon and the size didn't increase then it might make a great "traveler" camera – one that I could take the kid's park or on a bike ride.
Researching cameras
I knew that I wanted a modern day version of my old Canon – some quick Googling reassured me that the digital elph line was still around.  I then checked out a great post on how to buy a beginner digital camera over at "The Fox".  I then exchanged a few emails with the royal Squawkers herself and got a whole bunch of more info on the topic.  Talking to other people can be quite helpful – especially if that person is "The Fox".
The criteria
My criteria was very flexible but the basic criteria was as follows:
Price under $500.
Small and portable – ie similar to my old camera.
Anti-shake function.   In my opinion this is a key feature that helps improve photos.
The choice
I narrowed the choice down to 2 great cameras:  The Canon PowerShot SX200
($400 at FutureShop) which is basically the modern day equivalent to my old camera or the Canon Powershot G10
($529 at FutureShop).  The G10 had more mega-pixels which I didn't really care about but it seemed to be a pretty good camera that was rated quite favorably in Consumers Reports.  The drawback of the G10 compared to the 200sx was size – although not a big camera the 200sx was significantly smaller than the G10.  I decided to go with the Canon 200sx since it fit the bill exactly for what I wanted.
The purchase
I bought the camera at Future Shop for $400 (since reduced to $379).  I also got an 8 GB memory card (there isn't one with the camera) and a camera bag ($21).  I decided to try my "negotiating" skills when purchasing and asked the salesperson if I get a reduction in price for any of the items.  She told me yes, I could get a "package deal" – I was pretty pleased with myself but what she did was lower the price of the camera to $330 and add in a $100 extended warrantee (4 years).  The net effect was that I could have the extended warrantee for $30.  I wasn't going to accept it since I hate EWs (I think generally they are a ripoff) however I thought that paying less than 10% of the purchase price for 3 additional years of warrantee wasn't a bad deal.  Normally the extended warrantee costs are 30-40% of the purchase price which makes it hard to come out ahead.  It also includes an "annual lense cleaning" which I had never had done on my old camera but I figured I could probably do it once before the warrantee ran out.
After-purchase thoughts
I've had the camera for a couple of weeks and it is fantastic.  It's hard to believe how much difference there is in this camera and my old Canon.  Ironically I think I paid $500 for the old camera 7 years ago and my new camera cost $400 for something far superior.
Some things that I really like and didn't necessarily expect:
Picture quality.  I don't really know anything about cameras or photography and most of my pics so far have looked pretty good.  Even the inside shots are pretty decent.
Video.   The video quality is amazing.  I had assumed it would be a bit better than the rather bad video of my old camera but I was quite amazed at how good it was.  The camera has a speaker so you can listen to the video sound when replaying it on the camera.
Zoom.   The zoom is quite impressive.  It doesn't compare to a larger camera with the add-on zoom lense but it's pretty good.  Again, a huge improvement over the old camera.
Size and portability.  The camera is only a bit bigger than my old camera so it fits into a small camera bag and can be strapped onto my belt.  I have no problem taking it anywhere.  I knew this before I bought it but it's still worth mentioning since it is one of the big benefits of this particular camera.
Read my review of the Sony DLSR A350 camera.