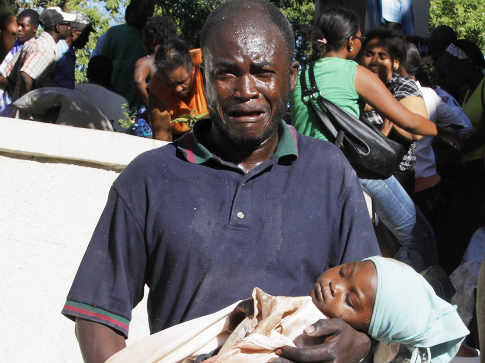 I'm sure by now everyone has heard of the huge earthquake in Haiti which has devastated the country and killed many thousands of people.  I wanted to write a post to try to urge people reading this to consider donating to help the people of Haiti.  We have donated $250 to the Canadian Red Cross and $250 to Doctors Without Borders which I think are worthwhile charities for this situation.  Money is the best donation – items like food, clothing etc are too difficult and slow  to process and transport.
If you want to donate then check out the Canadian Red Cross site.  If you are American then I suggest you check out an American donation information page.  For more info on Canadian charities then check out Canadian Capitalist who has assembled a list of Canadian charities.
I'm not much of a giver when it comes to charities.  I usually give a bit of money each year – mainly to people I know who participate in fund raising activities such as a run/walk.  I like to see some effort behind the fund raising.
Warning – I've heard of scams where people will phone pretending to represent a charity raising money for Haiti. Apparently the real charities are not doing phone canvassing so I would suggest not donating over the phone. Do in person or online. For this reason I've disabled contextual ads on this post since I know they will contain scam links
In 2008, for some reason I didn't donate a single dollar.  I was somewhat embarrassed about this since I know I am a lot better off than most people who will benefit from any donations.  In 2009 we decided to pick a donation amount for the year ($400) and split it up among different charities.  I pretty much had to force myself to make the donations and I still didn't quite reach the $400 mark.
I have no difficulties donating money for tragedies like the Haiti earthquake. There is no doubt in my mind that the victims are real and very much in need.  Any donation WILL make a big difference which isn't always so obvious with most charities.
One of my concerns with charities is of course – how much of the money is actually being used to help vs pay for salaries/more fundraising?  This concern is still valid for the Haiti relief effort and I'm sure there will be mistakes made given the lack of preparation.  There isn't much I can do about this concern other than hope for the best and donate to a charity that I'm familiar with.
One of the things about this sort of scenario is that the victims are easy to help.  Their short term needs are fairly basic:  clean water, food, shelter, medical care.  I'm not saying those things are easy to provide but at least if you can provide any or all of those basics then you will be making a big difference.
This isn't always so obvious with most charities.  If you provide free food long term to people are you helping them or in fact hurting them?  Things like cancer research are worthwhile endeavors in my mind but who does it help?  Donating money for medical research should indirectly help someone (perhaps even yourself) in the future but it likely won't help anyone who is suffering from an illness or injury right now.
You can't make all your donating decisions (or any other kind of decision) based on short term results but it does make it easier to pull the trigger on a contribution.  Seeing a picture like the one at the top of this post is heartbreaking.  That dead little girl is probably only a few months younger than my own daughter and unfortunately she didn't make it.  By donating, I'm hoping to prevent more deaths like hers.
More posts on this topic
For those interested, Million dollar Journey is offering to match donations to Doctors Without Borders.
How To Donate To The Haiti Earthquake Relief Effort – Amateur Asset Allocator
Cash Money Life — Money Management, Small Business, Career
Safe Ways to Help Haiti
Canadian Financial DIY: Haiti Earthquake Relief Charities
How to Help Haiti
Help Haiti Through The Red Cross
» How to Support Haitian Relief Efforts @ fivecentnickel.com
Help for Haiti: Here Comes the Blogosphere | MapleMoney
Donate To Doctors Without Borders to Help Aid Haiti