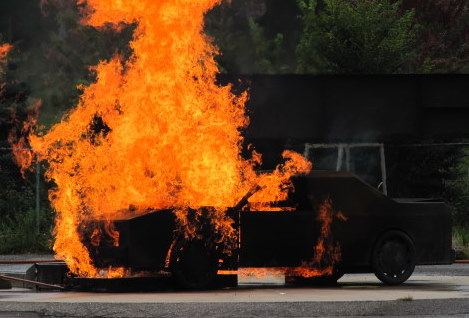 One suggestion for saving money that I've read on countless websites is to participate in free (or very cheap) activities that are happening in your community.  Things like festivals, open houses etc are good examples.  I've never really followed this advice since most "community" events seem to be geared toward people with kids – a group I wasn't a part of until a few years ago.  Now that I have a couple of little rugrats I seek out this sort of thing mainly because it is something to do with the kids.
We did one such activity a while back with the annual Toronto Fire Academy open house.  We missed this event last year so we made sure to plan for it this year.  Basically the academy does all the training for the Toronto Fire Department:  classes and field training.  They have a large building which I assume holds all the training classrooms.  There are also other training "props" on site – a train car, a car – both of which can be set on fire.   At the open house they had demos for quite a few exciting training exercises.  The great thing about this open house was that although it was geared towards kids, anyone with any interest in seeing things on fire (and who doesn't?) would enjoy it.
My only complaint about a lot of these local events is that it can be hard to find out about them.
Do you go to local, free events?  How do you find out about them?
Here were some of the highlights of the fire academy open house:
Train Tanker car on fire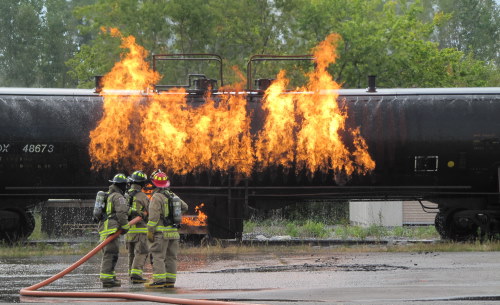 This was the best demo of the day – they had us about 300 feet back from the fire and you could really feel the heat.  I can't imagine how hot is must be when you are only 50 feet away.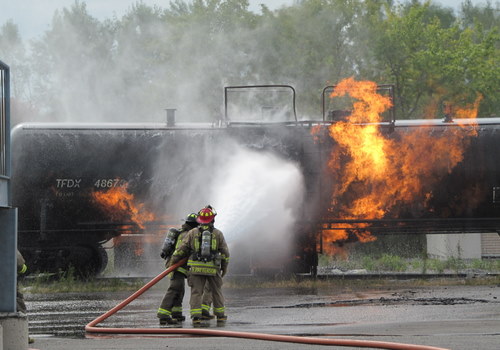 Burning car
This was pretty neat – although not as good as the train car.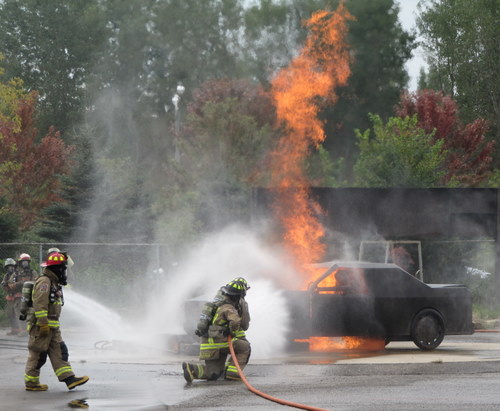 Ladder truck with extended ladder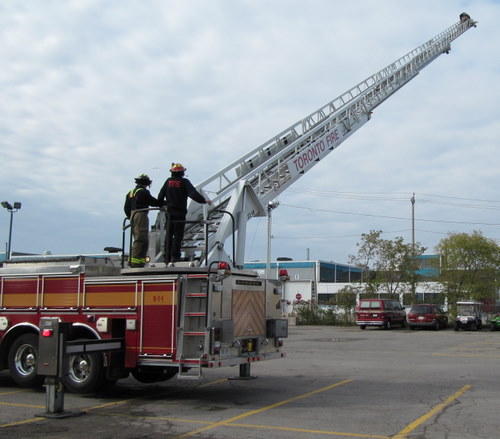 This was pretty cool – I had never seen a big fire truck up close and the guy swinging around at the top of the ladder was quite impressive.  The ladder is 105 feet long and he said the truck appears small when you are at the top.  Note the hydraulic system used to keep the truck level.  We also got to sit in the driver's seat as well.  There were a couple of different firemen who went up the ladder and they both took quite a few pictures with their cell phones.  I guess it's one of the few times they get to climb the ladder in a relaxed setting.
"Jaws of life" demo
This demo wasn't as visually interesting as the fire demos but the firemen had both of the doors of the car off in about 10 minutes.  The tools they use are incredible – very, very powerful.  They could probably have gotten the doors off quicker but safety for the firemen and the people trapped in the car is more important so they take a bit of time.