Ok, I admit that watching slide shows of your Mother-in-law's old vacations from 50 years ago isn't for everyone, however recently my wife and I spent a couple of evenings doing exactly that with my mother-in-law.  This frugal tip might be one of the lamest I've heard in a while so I will be offended if it doesn't make the frugal Friday roundup which features posts such as this one.
How did we get into this predicament?
My mother-in-law used to do a lot of traveling in her younger days and took quite a few slides on her trips.  She still has all her slide shows and also owns a pretty cool slide projector and screen.  I have to admit that I really like setting up the screen because I was never one of the lucky kids in grade school who got to help the teacher set the screen up for a movie.
A couple of the slide shows were focused on my wife as a baby and a little girl which was pretty neat to see.  Some other shows had a lot of my wife's older relatives in Europe – most of whom I had only met in the last 3 or 4 years).Most of them are quite old – 65-85 years old so seeing pictures of them from 40-50 years ago was very interesting.  My mother-in-law will be 80 this year and she had quite a few shots of herself in her 20s.
How do I get in on this exciting new hobby?
Personally I really enjoy watching old fashioned slides but you can accomplish the same effect by hooking your computer up to your digital tv – I don't have a digital tv myself but I don't think it is very hard.  Obviously most people don't have access to slides and projectors so the tv option might be more realistic.  You can also buy digital projectors but they are pretty expensive at $600+.
I think the slide show idea only works if there are slides worth looking at – my MIL took some pretty interesting trips in her youth and took her pictures sparingly so we didn't have to look at the same photo from 15 different angles.  The other great thing was that my MIL did have a few comments on some slides and trips but she didn't go on and on about each photo.  It helps if you wait 50 years before doing a slide show of someone's trip – that way they won't remember as many details.  🙂
Getting slides digitized.
This isn't exactly on topic but I got a couple of slides digitized for this post and thought I would share the experience.  Basically I took the slides to a photo stores (Blacks) and they said it would cost $1.99 per slide or $2.99 to make a print.   This seemed a bit odd since it's far cheaper to order the $1.99 digitizing and then pay the normal $0.30 rate for printing – but it didn't matter since I wasn't getting them printed.
I only had a few slides to digitize so I didn't bother shopping around – however I'm sure if you have more slides to do then it is worthwhile to find a better price.  Another option is to buy a scanner than can handle slides – that option is fairly expensive but if you have enough slides then you will save money.  You can also buy an attachment for your slr camera.  Both options are discussed here.
Similar trips
One of the more interesting slide shows we saw was a trip through Germany that my MIL took in the early 60s.  Germany is a beautiful country and it's hard not to take some great photos if you are visiting there.  On that trip she went to a lot of the same places that we went to when visiting Germany last year.  One of the great things about Germany and I'm sure this is true of most of Europe and Asia is that there are a lot of old buildings and cities to look at – the churches in particular are very impressive to look at and are quite old – even though some of them were rebuilt after the war.  The Cologne Cathedral is Germany's best known church but there are at least a half a dozen other churches in the country (and maybe a lot more) that are almost as good (and with less crowds).
Here are two of the destinations on my mother-in-law's trip in 1961 that we also went to in 2008 – I've included photos from her trip as well as ours.
The Rhine
Yes, the famous Rhine River is in Germany and there is a very scenic drive which we loved because the road was right beside the river so there was great scenery all the time plus a plethora of old castles along the river which has historically been one of the more prosperous areas in Europe.  Some of the castles were just ruins and others are very well preserved and some are even hotels.  Here are two photos of the Rhine – one from 2008 and the other from 1961.  Not the same view unfortunately.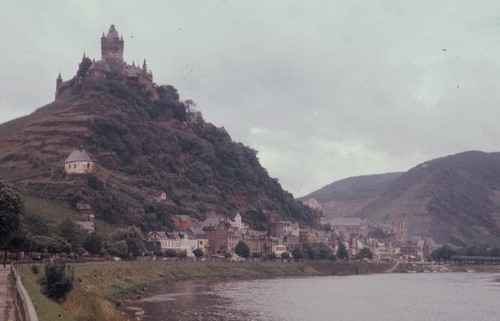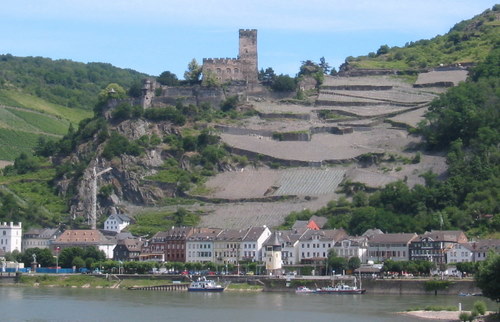 Rothenburg Ob Der Tauber
Rothenburg is a fascinating place and very well preserved.  There are lots of little towns in Germany with old buildings and parts of walls remaining that once surrounded the town.  Rothenburg is all old buildings and has its complete fortress wall – parts of which date back to the Roman empire.  If you ever get a chance to see this town then do it – accomodation is a bit more expensive than most small cities but it's not too bad.  You could easily spend a couple of days there checking out the wall and various buildings.  Here are a couple of photos from the town square.
In the 1961 photo – the building on the left is the City Hall.  In the 2008 photo it's the building on the right.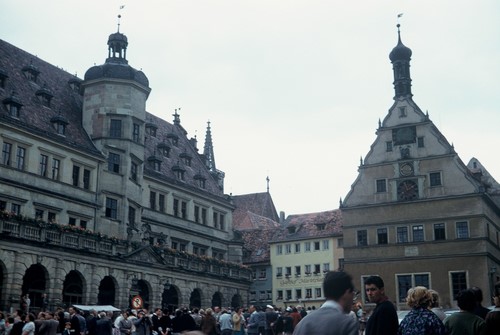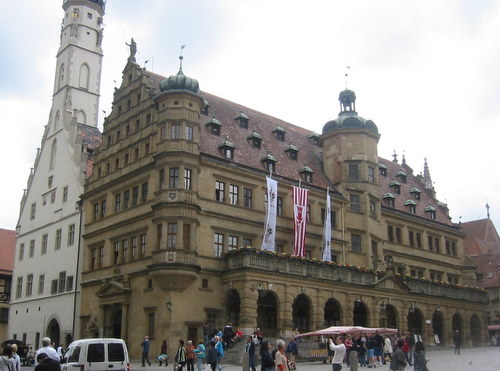 This is one of the gates to the city – the only photos we have of exactly the same scene from both trips.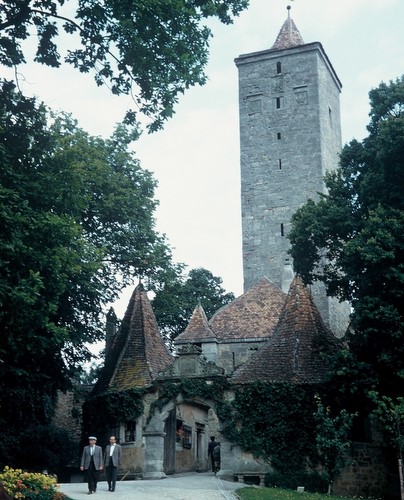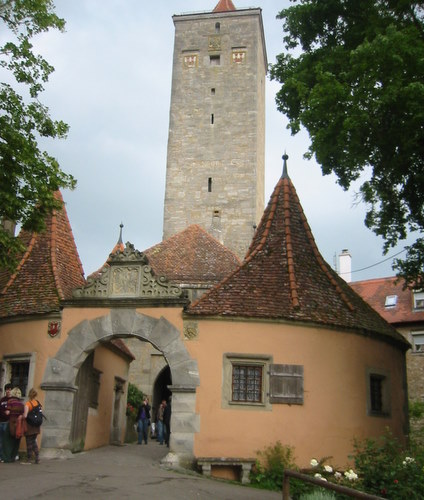 And last, but certainly not least – one last photo of my Mother-in-law – she used to be a nurse in the Canadian Air Force. For some reason I've always assumed that everyone in the airforce flies on airplanes all the time but apparently that is not the case. She did however get to go up in a fighter plane and I thought this photo was pretty cool.