Last weekend, my son started his first hockey school.  It's basically a learn-to-skate with a bit of hockey thrown in.  He seemed to like it and more importantly, I loved it!  It was quite exciting to see him skating around in hockey equipment and I knew a couple of the other hockey dads which made for a good time.  
There were a ton of kids and lots of instructors and while it seemed like a bit of a zoo, it was extremely well organized.  There was even a dog in the (very) crowded dressing room to add to the fun.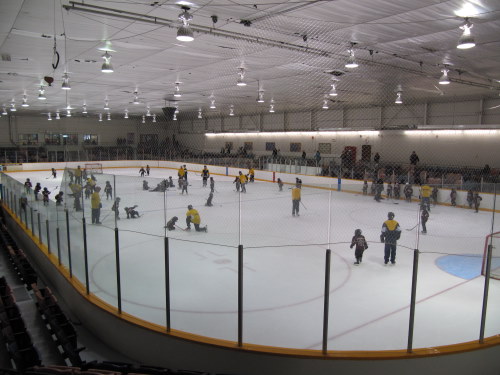 On with the links
Million Dollar Journey did an excellent review of the ING Streetwise index funds.
Phil from PT Money is planning to buy a new houses and use their current home as a rental.
My University Money was born in the USA and lived there for a total of two days.  Now he's on the run from the IRS.  Unbelievable.
Rob Carrick had a very useful post on how to interview a financial advisor.
The Wealthy Canadian has some really good advice for anyone thinking of buying and investment or retirement property.
Thicken My Wallet has some do's and don'ts when doing job interviews.
A long, but interesting look at the history of economics.
Canadian Capitalist covers the state of the Canadian ETF industry.
Boomer & Echo say that a power of attorney is very important.
Boomer & Echo is also giving away a copy of my RESP Book. Go enter now!
The Oblivious Investor compares ETFs vs. Index Funds.
My Own Advisor figured out the Best Canadian bank stock.
Michael James is interested in the BMO ETF screener and comparison tool.
MapleMoney has Five fall car care tips.
Carnivals
Carnival of Financial Planning