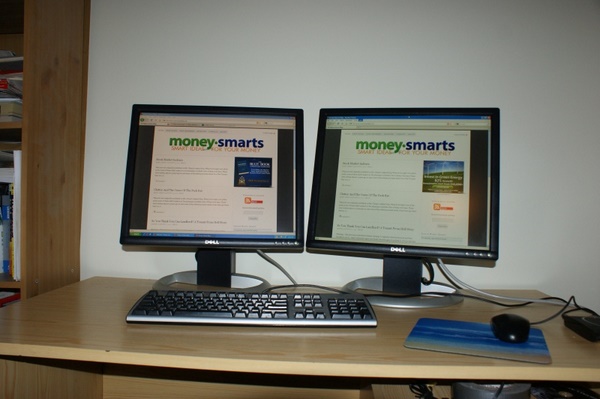 Hope you had a great "holiday" week. I managed to get my home office setup. I've been blogging from a laptop on my couch for the past 3 years and I decided that having a proper workspace would help with productivity. I'm also hoping it will allow me to set "office hours" so I can limit my blogging time a bit.  I have a hard time putting the laptop away.
I bought a used PC and 2 19″ monitors. After using a laptop for so long, the extra screen space will take a bit of getting used to.  They are about five years old, but work quite well.
On with the links
Preet uncovered this gem. BMO wants to rename their index funds to include "ETF". This is the stupidest thing I've ever heard of. Why stop at ETF? Why not call it the ETF Gold Lady Gaga Index Fund?
Jon Chevreau wrote an amusing article about the best and worst bank mutual funds. He points out that Gordon Pape somehow likes to ignore the ETFs in his evaluation.
Canadian Capitalist wrote an "I told you so" post about an ill-conceived investment product.
Larry MacDonald wrote about fundamental weight ETFs and bear markets. In my opinion, there are passive investing products (market cap ETFs) and then there is everything else.
Rachelle from Landlord Rescue finishes off her trilogy of Landlord from Hell stories. This one is a doozy!
The Oblivious Investor needs help deciding whether to invest in retirement savings or invest in income growth. I say both.
Michael James says that pet insurance is hard to justify. Sometimes I think that the cost of pets is hard to justify.
Million Dollar Journey came up with 6 ways to buy gold. I have a 7th way – just don't buy any.
The Financial Blogger explains the difference between working on salary or 100% commission.