Last weekend I took my kids to the beach at Ashbridges Bay. It was sunny and about 24 degrees Celsius which is pretty amazing for the end of September.
The waves were fairly large, which was a lot of fun for the kids and myself. The water wasn't as warm as it had been during August, but we weren't complaining.
As you can see from the picture, kite boarders were in abundance.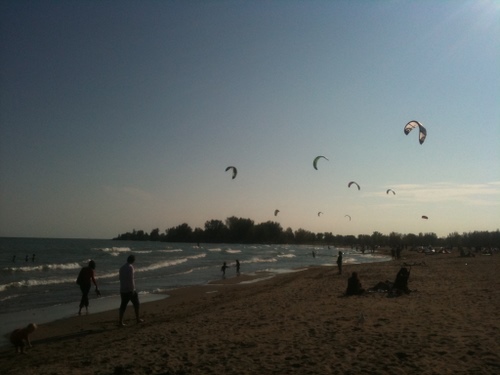 On with the links
Rob Carrick warns about outrageous bank fees and gives an example of a senior who paid $1305 to transfer three accounts to a new financial institution.  This is robbery – normally you wouldn't pay more than $150/account to move.
Steadyhand had a related post about the inefficiencies of investment account transfers between institutions.  The aforementioned $1,350 fee is one such type of inefficiency.
Garry Marr had an interesting story about buying gold level Leafs tickets for $25.
The Finance Buff says that buying on the dips is just fine.
Canadian Mortgage Trends had a nice tribute to Fraser Smith who created the Smith Maneouvre.
Canadian Capitalist reveals that dividends are not the only way to get money from your portfolio.
Seeking Alpha reminds investors not to get complacent about dividend champion stocks.
Echo wrote about his net worth. This is part of the MoneySense guide to financial freedom.
Michael James said that buying on the dips isn't necessary the best way to invest.
Million Dollar Journey explains what a pension adjustment is.
My Own Advisor is all about stock dividend dripping.
The Oblivious Investor is demanding portfolio rebalancing in his brokerage accounts.
Retire Happy had a good post on why you shouldn't sell when the stock markets drop.
A few more links
Are Kids Really That Expensive?
Scotia iTrade Discount Stock Brokerage Review
How To Become A Millionaire
How We Paid Cash For Our New Car
Should You Use Credit Cards During Retirement?
What is a Mutual Fund Prospectus?
 Carnivals