I've written about begging before.  As long term readers can probably guess, I'm fairly opposed to it (heck, I'll even tell people off for begging in "World of Warcraft").  Aggressive panhandlers are one thing, but at least their actions are usually motivated by a personal and immediate need.  Others have actually chosen begging as a career, and often make very good salaries doing so (or managing other people who do it on their behalf).
The brother of a family friend does fund raising for universities.  He basically hooks up with a school, and is given the mandate to boost donations from alumni.  He's paid 10% of whatever he raises for the school (and is given a staff to help him with marketing, calling alumni, etc).  This can certainly rub people the wrong way (when they make a donation, they probably don't realize that 10%+ is being taken off of the top to pay this guy), but from the university's perspective, they're way ahead (even after giving him his cut) if he can dramatically increase the donations.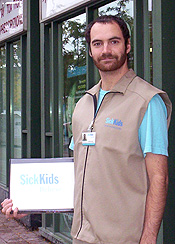 At the beginning of the year Michael O'Mahoney left his job as the head of the "Sick Kids" fundraising arm, a position which paid $624,103 in salary and benefits.  Anyone who has spent time downtown in Toronto has seen the Sick Kid canvassers, who flank a sidewalk in pairs making it impossible to walk past without being solicited from one of them.  It's pretty had to get angry at people fund raising for children who are ill, and to their credit they aren't pushy at all, but it's always bothered me that these young kids are being paid to shake down pedestrians.  Friends have insisted to me that they're volunteers, not paid employees, but after I looked into it (I asked them on the street and looked on-line) it became quite clear that they are paid – currently starting at $12 / hour.
It has been so successful that recently the Red Cross has adopted a similar campaign here in KW (shaking down employees outside of RIM).  I suspect in the current economic climate, a number of students would be tempted to do this as a summer job – $12 / hour is a lot better than they'd be earning at fast food or doing yard work.
When I was a child my mother used to go door-to-door collecting for the CNIB (her grandmother was blind and glaucoma runs in the family).  This was begging as well, but I feel more comfortable with her doing this as a volunteer than someone being paid to do so. Even if someone supports being paid to fund raise, should people be getting rich doing so? (as in the case with 10% of school donations or an annual salary that's more than 1/2 a million dollars).  I'm pretty sure this would bother many donors.
One of my math teachers in high school (a raging Scot) ranted one time about how he wouldn't let his daughter participate in school fund raising activities because he didn't want her "begging from the neighbours".  The same guy compared an annual all-school hockey tournament to Nazi Germany, so at the time I thought he was a few cards short of a deck.  As I've gotten older, I've come to appreciate his perspective, and I think I'd be reluctant to allow my children to participate for the same reasons.
A friend of mine donated to Sick Kids the first time he encountered them on the street.  After he gave them $20, he was subjected to a continuous stream of requests for more money (phone calls, letters, etc).  He figures they quickly burned through the $20 trying to get more money out of him and he eventually insisted they take him off of all their lists as he was sick of being disturbed (and has said he'll never donate to them again).
In late 2006 a scandal erupted with the Canadian arm of Mothers Against Drunk Driving that they were using almost all the funds raised to pay salaries and fuel additional fund raising activities with very little going to actually combat drunk driving.  My experience with non-profits has sadly been that this isn't terribly unusual.  Good intentions are considered worth as much as actually accomplishing something.
"The Road to Hell: The Ravaging Effects of Foreign Aid and International Charity" by Michael Maren is an amazing book that details his desperate attempts to do good work in Africa, while being confronted with the reality that his work either was ineffective or actually harmful to the people he wanted to help (and was subverted for the benefit of those in power at the NPOs and in the African nations).
Do you donate money to charitable causes?  If you do, how do you ensure that your donation will be used effectively?  How do you pick where to donate?  Do you think it is reasonable for people to be paid for fund raising?