I'm happy to finally announce the launch of my book:
The RESP Book:  The Complete Guide to Registered Education Savings Plans for Canadians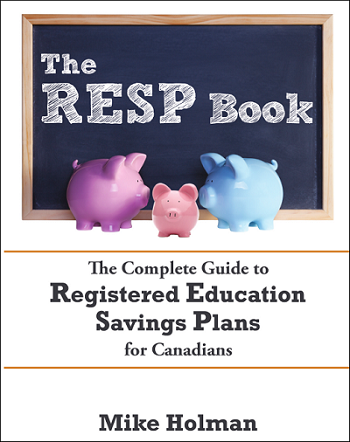 What the book is about
This book contains everything you need to know about RESP accounts.
How to set-up an RESP account
Where to set-up an RESP account
Who should set one up
Contribution rules
Withdrawal rules
What to do if the child doesn't go to school
Basic RESP investment information
Who should buy the book
Anyone who wants to save for their child's education and is thinking about setting up an RESP account.
Anyone who already has an RESP account, but would like to learn more about how it works.
Anyone who would like to buy the book as a gift for someone else.  This would make a great baby shower gift or Christmas present.
How to buy the book
Benefits of buying this book
This book will save you time.  It is much easier to understand than government websites and condenses all the information you need to know in one place.
Reviews and Media Mentions
Rob Carrick of the Globe and Mail mentioned the book in his newsletter:
It's About Time

Mike Holman of the MoneySmarts blog has filled one of the very few remaining holes in the Canadian personal finance bookshelf with a new book on registered retirement education plans.
Rachelle from Landlord Rescue:
It's like a breath of fresh air for information starved people looking for an RESP. It took me about 2 hours to read (I read at the speed of light) and had all the information it took me 6 months to learn. Every single thing you need to know about RESP's is in there, written in an easy to understand manner, instead of in 9pt type by a lawyer.
This book is a comprehensive guide to the RESP program in Canada and is a must read for any parent considering or even using the RESP.
Mike Piper – Oblivious Investor:
If a yank with no prior knowledge of RESP accounts can understand the information in the book, I imagine it'll be thoroughly understandable for Canadian investors. If RESPs are a topic you're looking to learn more about, go check out the book.
The RESP Book will help you understand how RESP accounts work and how to get one started, what kind of RESP account to set up and what kind of investments to buy.
Mike Holman clearly explains all the ins and outs of RESPs in his book.
Larry MacDonald – Canadian Business:
It would make a useful addition to the book shelf as a reference for RESPs in their current form.
How to help
If you would like to help spread the word about this book, please consider some of the following:
Tell everybody you know about the book – friends, neighbours, relatives, co-workers etc.
Email the link to this page to everyone you can.
Mention the book on social sites such as Twitter, FaceBook etc.
Put a sign on your front lawn.
Wear a sandwich board around your downtown area.
Write an "RESP Book " song.  You can sing this at work, in the subway – wherever there are other people around.
If you can think of any others ways to help promote the book, please leave them in the comments!
Media/Blog requests
If you would like to get a review copy of my book or book an interview, then email me at mike AT MoneySmartsBlog DOT com.
People I'd like to thank
Mike Piper from the ObliviousInvestor.com.  Mike has been incredibly helpful and basically mentored me during the book writing/self-publishing process.
Kerry Taylor from SquawkFox.com, who did a fantastic job editing the book (along with her husband).  They cared so much, they even delivered the editing notes in person.  🙂
Mr. Cheap, who encouraged me to write the book.
Holy Potato, who did the quickest review of the book and came up with a ton of great suggestions.  Check out his site – he still has the best header in blogland.
You can now follow me on Twitter @MoneySmartsBlog