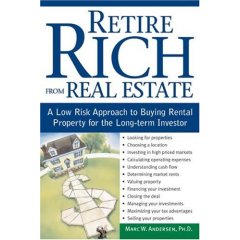 After reading the reviews on Million Dollar Journey and Thicken My Wallet of "Retire Rich from Real Estate" by Marc Andersen, I contacted the good people at Sphinx Publishing and asked for a review copy (I didn't win either of the give-away contests, so it was that or buy one).
I was particularly excited by MDJ's comment: "some of the content in his book is fairly technical in nature. His conclusions are based on research from national real estate investor surveys, demographics and his own experiences." Unfortunately I was a little bit disappointed from this perspective, as I found the book wasn't quite as rigorous as I was hoping for. It certainly wasn't a "get rich quick" book, and was still worth reading.
I disagreed with Dr. Andersen's advice to use a property management company. He STRONGLY recommends this. I felt he didn't provide enough warnings about kick backs and conflicts of interest that are common in property management. He did discuss the conflict from the perspective that PM companies will want to keep tenants happy and the building full rather than maximize profits (to keep complaints from tenants AND owners at a minimum), so you have to insist on policies that accomplish your goals rather than theirs.
I thought he gave an excellent treatment on renting to students (hard on units with few complaints). He also talked about numbers (too many students and he feels you're guaranteed to get a "party house") and the differences between men and women (more damage and more complaints respectively). Truth be told I think this gender difference is true of ALL tenants (if you'll allow me to leave my political correctness at the door), not just students.
He has a section on selling, and provides good advice on FSBO vs. using a Realtor: do it yourself if you can, use a Realtor if you live elsewhere or don't have the time. He advises not to tell your Realtor anything you don't want the buyer to know.
I liked his references to the Property Owners and Mangers Survey (POMS). Rather than just using personal experience or "best practices" he's able to provide statistics gathered from a large number of property owners.
He gives good advice, warning that property values and rents aren't guaranteed to always go up. The books that say to blindly buy real estate "'cause they're not making any more of it!" always concern me, so its great that he puts in warnings of some of the risks.
All-in-all, I think this is a great book for beginners who are thinking about buying their first property. I was hoping to get more from the book after reading the two reviews, but found a lot of the material to be information I'd already been exposed to. No book can cover everything, so I imagine a nervous beginning investor would still be nervous after reading this, but hopefully it would address some of their concerns.