Setting up an RESP account can be a daunting task. There are many RESP rules, plus you have to figure out where to set up the account and what kind of investment products to buy. Mutual funds, ETFs, and asset allocation are not the sort of thing most new parents want to spend time learning.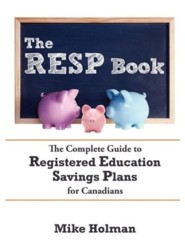 This article will show you how to set up the safest, simplest and cheapest RESP account. If you want something a bit riskier, keep reading because we'll show you those options as well.
Set up an RESP GIC account at your local bank
The quickest, easiest and safest RESP account is an RESP GIC account at your local bank branch. All the major banks have this type of account and they are all very similar.
Benefits of an RESP GIC account
Cheap – No annual fees.
Convenient – There is probably a bank branch near you with reasonable hours.
Easy – Just show up and let the bank employee guide you through the set up forms.
Versatile – You can contribute once a month or once every five years. Whatever you like.
Grants – Eligible for all government RESP grants.
Not permanent – You can always transfer the money to mutual funds or ETFs later on.
Attract gifts – Relatives might be more inclined to contribute money to an RESP, rather than give the parent money directly. Does your child really need more toys?
Drawback – No equity exposure
The main drawback of this simple RESP account is a lack of exposure to the stock markets. Stock investments have a higher expected rate of return than GICs over the long term. The problem is that most RESPs are going to be redeemed before the long term is up. If your child is 10 years old and will be attending school in seven years, it would be too risky to be invested mostly in equities. It's better to be safe than sorry
The main benefit of RESPs is the 20% government grant on eligible contributions. A GIC account allows you to easily set up an RESP account and receive your RESP grant without worrying about losing money or having to learn about different equity products.
You don't need much money
Don't worry about needing a lot of money to get your GIC RESP started.  Typically you can start an account with $500 and contribute as little as $25 monthly.
Account set up checklist
Before going down to your local bank branch – make sure you have a SIN card and birth certificate for each child as well as the SIN card for the parent opening the account.
Note – You don't have to be the parent to set up an RESP for a child.
RESP tips
If you want to prepare yourself before setting up the account, take some time to get familiar with some RESP rules:
Learning how RESPs work isn't mandatory, but it will make the account setup process at your bank much easier.
GIC Tips
Tip #1 – Just get the plain Jane GICs. GICs that are "linked" to equity growth generally have higher fees and are not a good deal. If you want equity exposure – get a different product for that.
Tip #2 – As the child gets closer to school, match the GIC maturities with the planned withdrawal date. For example, if the child is starting school in three years – make sure the GICs mature in less than three years to avoid early-redemption penalties.
If you have a large RESP, you won't need all the money when the child starts – some can be available for 2nd year, 3rd year etc.
Here is a list of the big bank RESP GIC accounts along with their five year GIC rate:
Easiest, but not cheapest or safest way to invest in equities with your RESP
Ok, so maybe you think GICs are too boring. Having a stake in the stock market is what you need to keep the blood pumping. But, you still don't want to learn anything about investing and can't be bothered with changing the asset allocation to make the RESP account less risky over time.
Introducing the RBC Target Education mutual fund. This fund is currently offered in three versions:
The year in the fund version corresponds with the year you hope your little monster will start college.
One of the mandates of this fund is to change the asset allocation over time so that it invests mostly in equities in the early days and changes over to mostly (safe) fixed income in the years just before the money will be needed for education. This means that your money should be relatively safe in the last few years before withdrawal which is key. The earlier years will not be very safe, but if the markets are good – the final RESP balance might be quite a bit higher than with a GIC account.
The annual fees (management expense ratio) starts off at 1.85% and declines slowly for the first 10 years and eventually ends up at 1.0% per year. You are definitely paying for convenience with the high MER, but if you want a no-hassle equity product that reduces risk over time for your RESP, this is a good choice.
This fund is available through an RBC mutual fund account.
Cheapest RESP, but not the easiest or safest
And now we get to my personal favourite – the TD Canada Trust e-series RESP. This account is a bit of a hassle to set up and you have to be a Do-It-Yourself investor since nobody will be helping you. You can set the safety level of this account by increasing or lowering the equity/bond allocations. If you choose 100% equities, this portfolio will be very risky.
How to open up a TD e-series account
Set up a TD mutual fund account.
Make a purchase to the money market fund.
Convert the account to a TD e-series account using this form.
Start investing.
Here are more details on how to open up a RESP account for your child using TD e-series funds.