One of the big questions that most investors have once they decide to open an RESP account is how and where to do it.
Here are some options – please note you need a SIN for the child to open an RESP: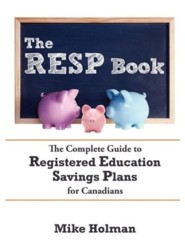 Do-it-yourself
The best option if you want to do the investments yourself is to open up an account with TD and invest in their e-Series index funds. These index funds have the lowest MERs (costs) of any funds in Canada so they are a pretty good deal. This account has no annual fees either. The idea with these funds is to do a basic couch potato portfolio. Please note that the TD e-Series accounts do not support the additional CESG grants or CLB for lower income families.  To get those extra grants, a regular TD mutual fund account can be utilized.
This post describes the exact procedure to get this set up. Basically you open up a TD mutual funds resp account and then apply to convert it to a TD e-Series account and then makes your purchases. Here is another post on getting started and please check out my asset allocation post on this subject. This post contains a sample RESP portfolio using the e-Series funds and includes the exact fund names as well. Thanks to the Canadian Capitalist for doing all the leg work on the TD accounts.
Another option for DIYers is to open up a discount brokerage account. You can see a comparison table of the various Canadian discount brokerages. One advantage of these accounts is that you can buy Exchange Traded Funds which are even cheaper than the TD index funds, however you will only be able to purchase them infrequently, otherwise the transaction costs will make them too expensive.
Financial Advisor
If you don't feel comfortable setting up an account and investing on your own, and don't mind paying more money in fees then you can usually get an RESP account setup at your bank or with a financial advisor. Try to watch the fees since most resp accounts are charged an annual administration fees.
Pooled Plans
Pooled or group plans are run by resp providers and should be avoided. They have very high fees and a strict contribution schedule with onerous penalties if you don't keep to the schedule or the child doesn't go to school. If you are already enrolled in one of these plans then you should continue with the plan, it's not worth the penalties to switch out. These plans are not that bad but there are much better choices available.
More detailed RESP information
Check out the RESP rules page for a list of more detailed RESP articles on this site.