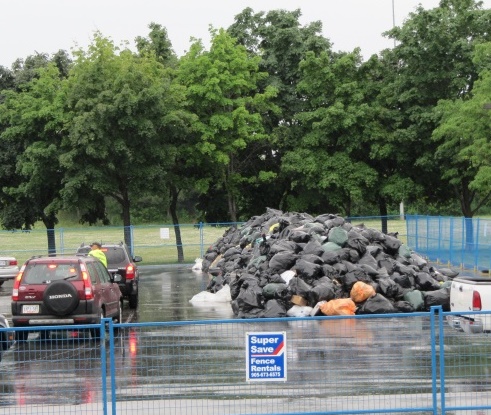 [edit July 30 –  Toronto garbage strike over?  Dave Miller cave-in]
As anyone who lives in Toronto knows – the City of Toronto outside worker are on strike, which of course means…no garbage pickup.  This may seem like a big deal but the city has set up some temporary garbage dropoffs so you can still get rid of your garbage fairly easily.  The union that is on strike does cover some other functions such as day care, wading pools and a few other things but the garbage issue is the most visible.
My family has quite a bit of garbage accumulated since we forgot to put our garbage out 2 weeks ago which of course was the last pickup before the strike.  I wanted to get rid of it asap but I had heard some horror stories of union shenanigans at the Bermondsey transfer station last week so I was worried that the pickets would be out of control at the temp sites as well.  However, I heard from one of my favourite readers Guiness416 that she went to the Ted Reeves station on Saturday and had no problem and no wait.
Yesterday, my son and I went to Ted Reeves to get rid of several bags of garbage and it was awesome – no waits, no pickets, no problems.  In fact I dare say that it was easier than having to get all my garbage ready for garbage day which isn't always all that convenient.
A few thoughts:
Smell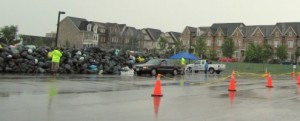 The dump didn't smell too bad, but you could detect it from fairly far away – I feel sorry for the people who live across from the dump since they will probably suffer for the length of the strike.
Union
Where were the picketers?  It would piss me off to no end to have to wait for picketers at a site where they don't normally work but if you are going to go on strike…you have to do the dirty work.  They should have been there.
Union II
I've been reading all the newspaper articles about the strike and I can't figure out exactly what the issues are – apparently the bankable sick days are the main issue (you can cash in unused sick days when you retire).  This is similar to the UAW "job bank" scam – you really have to wonder who the heck first agreed to such a stupid idea.
I can't imagine a reasonable union leadership wanting to strike over that one issue – yes, something is being taken from you but it's such a thick piece of icing on the cake that I would have thought the union would just sheepishly give it up – almost embarrassed that they were ever recipients of such a silly plan.   I've talked to a couple of picketers over the past week and unfortunately all I could get from them was that the city was trying to "cut their benefits in half".  Fair enough, I don't expect every picketer to know every detail of the latest offer but unfortunately they didn't have a clue.  They also weren't very interested in talking about it (to me at least).
What's the deal?
Does anyone out there have any inside scoop to this strike?  Are you in the union or management?  I want to hear your opinion.  For everyone else – are you annoyed about the strike?  Should they all be fired and just privatize?