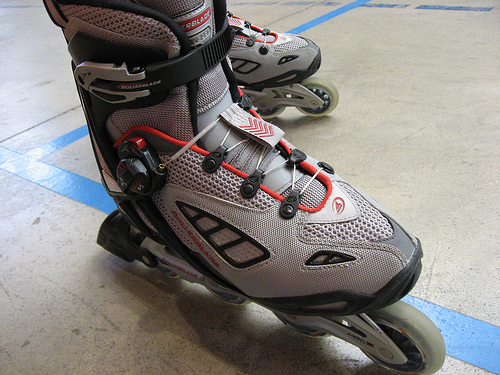 I'm a big fan of inline skating – or "roller blading" as I like to call it.  I got my first pair of skates which were the original Rollerblades back in the mid-80s.  Rollerblade was the original inline skate company and I had to order them from somewhere in Quebec.  It wasn't until probably the 90's when they became more mainstream and other sporting good companies got in on the act.
I tend to run my sporting equipment into the ground before replacing it.  This has nothing to do with being frugal or environmentally conscious but rather it's just easier to keep using what you have as long as it still works.  Laziness is also a factor as well.
My first pair of roller blades I used until the wheels literally stopped turning.  Then about 10 years ago I bought a new pair which are still in good shape but unfortunately I never rotated the wheels and the front left wheels got worn down to the point of falling apart.  I was still able to use the blades without that front wheel but I figured I should get new wheels or blades.
I ended up going to Sporting Life and buying a new set of wheels for $100 which compared to $260 for the blades I considered buying.  One of the main reasons for this decision was that I liked the bindings on my old blades better than the "new" style of bindings which you see in the photo.  My skates are more like downhill ski boots.  Plus of course, it was a lot cheaper.
I've had situations in the past where I just replaced a part and the final results didn't work out very well.  Hockey skate blade replacement, buying used tires for my car (really dumb) are some things that I would recommend avoiding.
Do you have any examples of where you where able to just replace a part and it was successful or not?  Are there some things you would just automatically buy a new item?
Photo credit: Oh Barcelona