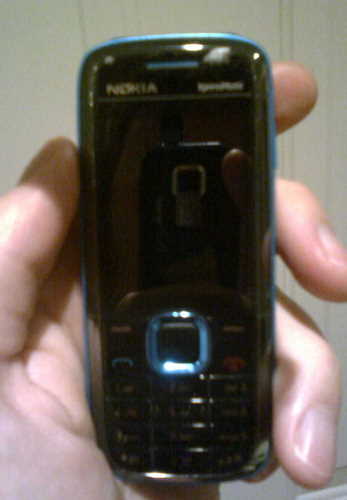 My wife and I both have old phones (mine has an elastic which holds the almost dead-battery on [see photo below]) and have been thinking about getting new ones.  We didn't want to get a contract and haven't had time to look around for a good deal.  Luckily, staff writer "Henry" took the time to do a rather extensive analysis recently on cell phone deals and concluded that for the light user, the 7-11 deal is the way to go.
The Nokia 5130 is basically the new Four Pillars staff phone since Mr. Cheap, myself and my wife all went out and bought one after reading Henry's post.  I like my phone so far – I love how it can take pictures although I have no idea how to get the pictures onto my computer. [edit – I figured it out] The drawback of this phone is that unlike my old phone it doesn't fold up so it is a bit bigger than I am used to.  I still can't believe 7-11 sells anything other than beef jerkey and over-sized pops but as it turns out – they sell pretty good cell phones as well.
Basically they have 5 phones you can buy.  If you get $100 of airtime then the phones are half price until Sep 30/2009.  For the $100 you get 452 minutes which last for 1 year.  Addition minutes are 20 cents per minute which is pretty good.
On these phones you get voice mail, caller ID, call waiting and 3-way calling.  I was talking to Mr. Cheap the other night and he tells me that there is even a video recorder on the phone.  I can't imagine how unbelievably crappy the video picture must be, but hey…if Santa Claus shows up and you don't have time to get your real camera then it will have to do.  The phones range in price from $59 ($29.50 on sale) for the basic Nokia 1661 to $140 ($70 on sale) for the 5130 which has an mp3 player and 2mb camera.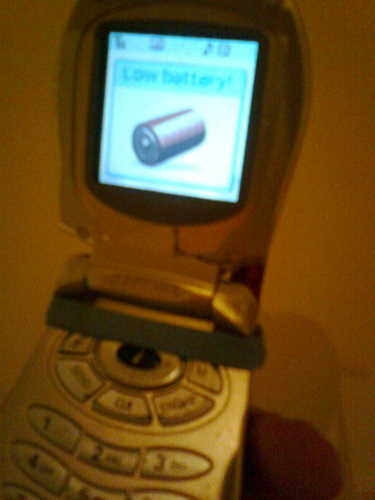 Keeping your minutes active
If you don't use all of your 452 minutes in the first year then you can keep those minutes active by buying more minutes before the old ones expire.  They can be purchased in blocks of $25 (for 100 minutes) /$50/$75 or $100.   Once you buy more minutes, ALL the minutes on your phone (the old ones and the new ones) now have an expiry date of 365 days from the top-up date.
Downloading pictures/media
The camera in this phone is no substitute for a proper digital camera however it can take reasonable photos in the right conditions (apparently not indoors as you can see from the pics so far) and makes a satisfying "camera taking picture" noise when using it.  If you buy the phone then you will need to go to the Nokia support site in order to download the proper software.  When you get to the page choose your phone (you can move the green thingy below the phones to show more phones).  You have to download the "PC Suite".
It takes a while to do all the downloads and is a royal PITA in my opinion. In fact I think you could probably download several versions of Window in the time it took to get this Nokia software installed.
Once I figured everything out then it worked really well.  You can select a default download folder so from then on – anytime you connect the phone it will download there.  You can select a subfolder based on the download date or picture date or other options.
The photos shown so far in the post look like crap.  This phone camera does not work very well indoors – which is ok since you'll probably have your normal camera available.  Here is a photo taken from the phone down at Ashbridges Bay which looks a bit better.  It's pretty good for taking pictures of people outdoors.