The Bag Lady recently posted about Daniel Suelo, a man who has "quit using money like a bad drug". I always find people, like Charles Long, Don Schrader or the Freegans to be interesting in their ability to opt-out of the Western economic and social system and chart their own course, living how they want.
Much like the others, there's a very specific philosophy behind Suelo's life. He was doing development work with Ecuadorean tribespeople and saw that as they became more prosperous, their health declined. He took the view that, counter-intuitively, money was impoverishing them. He spent time with the sadhus ("the revered ascetics who go penniless for their gods") and decided that it would be easy to be a sadhu in India along with others doing the same thing, but how much harder (and more worthwhile) it would be to do the same thing in hyper-consumption America?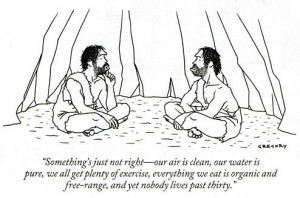 The "noble savage" has been a particularly obnoxious idea that glorifies living primitive lifestyle close to nature. I think Suelo is buying into an illusion that money is corrupting a society that he would rather see continue to live as subsistence farmers. Some people will make unhealthy choices, when they have the option to make them. To keep a group poor (or hope for their continued or future poverty) so they can't access these choices is short-sighted and patronizing.
A quote I love from a Danny Devito movie (I never saw the actual movie, this was just from the trailer) was "a million dollars is a motive with a universal adapter". This is true about any amount of money. If someone has desires in life, money can assist them (directly or indirectly) in fulfilling them. Money can help you find love (ask any guy who has taken someone out on a date or any woman who has bought makeup or a push-up bra), food, knowledge (bookstores, internet connections), or pretty well anything else you might want.
Money is the ultimate symbol: it can be anything. As Suelo (and the Bag Lady) point out, money only has meaning in the context of the marketplace it is used in. They say if you gave an alien a trillion dollars it would be meaningless to them. This is true, but so what? Money is incredibly useful WITHIN this context. It's like saying computer software wouldn't be anything other than long strings of 0's and 1's if there wasn't any hardware to run it on. This is true, but it doesn't make software useless (it's just part of a system).
Heidemarie Schwermer (also mentioned by the Bag Lady) apparently has lived without money for about 12 years, by bartering within "exchange circles". I can't understand for the life of me why she feels this is a more noble lifestyle than bartering with the global exchange circle that money makes possible (I guess I'll have to watch the documentary). Similar I don't understand why Daniel Suelo will accept a winter jacket from a friend, but he won't accept money from the same friend to go buy a jacket.
In each case, people (including Mr. Suelo) are able to adopt their lifestyle because of the excess from Western living. He uses a library provided free computer and internet connection to maintain his website, and often receives food and goods from friends in the nearby town. I don't have a problem with this, but some may attack a lifestyle that is so completely dependent on the society it rejects.
For retirement, Suelo plans to die in the canyon he has been living in instead of in a geriatric ward. I respect his fortitude to live his own life in such a manner that is radically different (and far harsher) from the society he exists in. I don't completely understand (or agree with) his outlook on money, but I admire his resolve and the courage of his convictions.
Mr. Cheap is on vacation this week but eagerly looks forward to reading your comments when he's back in town.