When people fill up their cars with gas, they try to get the best price. All the gas stations list their price for a litre of gas (gallon for Americans), which makes it very easy to compare unit prices.  One litre of gas at gas station A is exactly the same as a litre of gas at gas station B.
For most other items, it's not that simple. Grocery stores (or more accurately the food manufacturers that supply them) are the worst. They will shrink your favourite product, so you don't even think to compare unit prices. They also like to put out an "economy size" which has a higher unit price.
Smart consumers cut through all the bull and compare the unit prices, so they know exactly how much they are paying.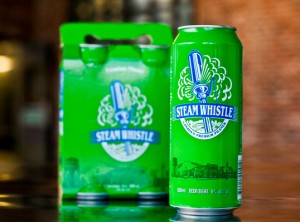 I can't claim to be the smartest consumer, but I did feel duped the other day after buying some Steam Whistle, which is my favourite beer.
They used to just offer regular bottles (341 ml) and large cans (500 ml). It was obvious to me that the cans represented a much better deal. In fact, the cost for the bottled beer was $0.66 for 100 ml which is 25% more than the $0.53 for 100 ml of canned beer. A significant difference, I'd say.
Recently, I paid a visit to the local store and one of the clerks told me about a new six pack of cans from Steam Whistle. The case of six cans was $3.50 more than the cost of buying four separate cans, but she made it sound like the six pack was made up of the large cans. After buying the six pack, I realized that the cans were in fact, not large (500 ml), but disappointingly normal in size (355 ml) and I knew I'd been had.
Sure enough, the pricing for the small cans was $0.65/100 ml, which is just a bit less than the bottled price, but a whopping 23% more than the unit price of the large cans.
Conclusion
Don't ever assume anything from anyone. If you want the best deal for an item, you have to understand the pricing and the sizes involved.
Steam Whistle is already one of the more expensive beers on the market – don't make the same mistake I did and over pay for it!
Please note that I have subtracted the cost of the deposit, before calculating the unit beer costs.