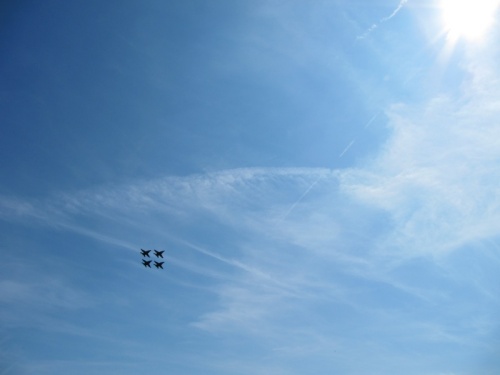 Happy Labour Day everyone – we've had a fantastic weekend in Toronto – in fact the weather has been perfect for the past week.  Saturday we went up to a beach near Wasaga and it was quite impressive.  I was expecting a fairly small beach but it was huge.  Sunday we braved the crowds to head out to Centre Island to enjoy the beach there and watch the air show.  We didn't have a great view of the show but were able to see quite a bit.  One time we were watching and a plane went right over us from behind.  It sounded like it was about 10 feet over our heads.  🙂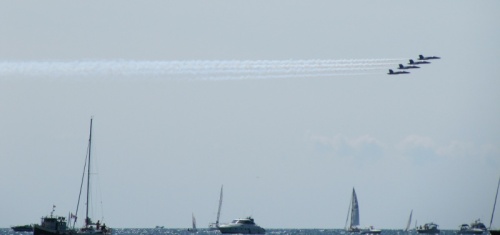 These pictures were taken with our new Canon 200sx.  Some of the pictures and videos ended up being pretty good but those planes are hard to take pictures of.  They are either too far away or moving too fast when close.  The other problem is that the view finder on the Canon is not as good as the actual camera – there were a number of times where I couldn't see the planes on the view finder but the picture showed them clearly.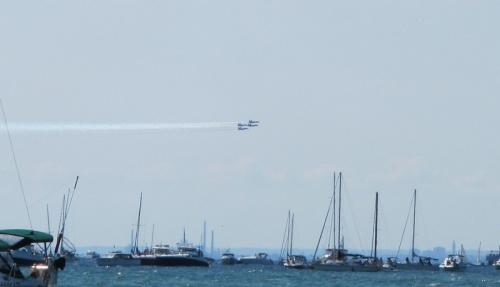 The links
Good Financial Cents had a pretty cool story about a friend who just returned from service in Afghanistan.  Nothing to do with personal finance but a good read.
Finance Freelance Life had a very useful post on How to save and store critical financial information for your family.  If you get hit by a bus one day you don't want your family to have to scramble to figure out the finances (not that you'll really care at that point).  🙂
Million Dollar Journey had another great post from Kathryn called Money and dating – finding someone with similar financial goals.
Canadian Capitalist tells us his top five investment deals.
Preet talks about a hedge fund that returned 80% last year.  And it wasn't run by Bernie Madoff.
Financial Blogger asks Is my pension dead?  6 Killer questions to ask your HR about your pension plan.
The Dividend Guy explains why ETF marketing is hurting investors.
The Oblivious Investor has some thoughts about paying down debt vs investing.
Cash Money Life gives us a guide for estimated taxes. These are American rules.
Moolanomy also wrote about how to calculate IRS estimated tax payments.
Personal Finance by the Book thinks that a rising national debt makes the Roth IRA a good choice.  The Roth IRA is the American equivalent to the Canadian TFSA so he's basically predicting that taxes will go up so paying your taxes now might be a better choice.
The Intelligent Speculator says it's time to dump eBay.
ABCs of Investing explains what REITs are – real estate investment trusts.
Carnivals
Carnival of Financial Planning