I hope everyone had a good Thanksgiving.  I don't think the weather can get any better than that.  We were in Northern Ontario and I took my kids swimming at the beach.
If you read this blog through an RSS reader or via email, you'll notice that you have to click through to the site to read the entire article.  I made this change as a result of all the "scraper sites" which are sites that copy articles from various blog feeds and post them on a different site. It's not clear exactly how Google treats this duplicate content, so to be on the safe side I'm going to try to eliminate the problem altogether.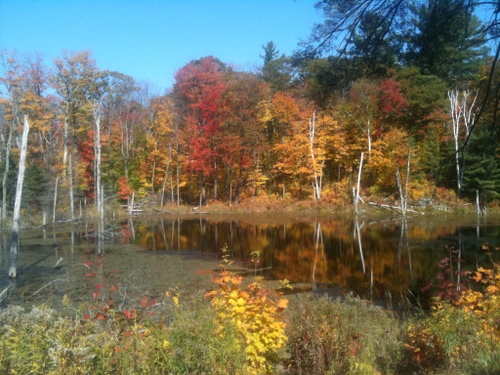 On with the posts
Early Retirement Extreme has a interesting and funny post explaining how he lives on $7,000 per year.
Paula from Afford Anything had a great post called Stop crying that there are no jobs and create one.  Love it!
Squawkfox has a delightfully scary recipe for Halloween monster meat heads.
Larry MacDonald talks about the welfare state and the debt supercycle.
Michael James has an interesting way of evaluating financial goals.
The Oblivious Investor answers the question it is ok to sell low when fixing a broken portfolio?
My Own Advisor has a bunch of reasons for investing in dividend stocks.
Echo wrote is comparing his spending to his financial goals.
Canadian Capitalist says that current stock volatility is normal.
Carnivals
A few additional links