I've been looking for some kind of software that will help me organize my bank accounts a bit.  I'm not into budgeting, but I do have a small business and need to come up with several totals at tax time.  I also would like to be able to see income/expense breakdowns without doing a lot of work to set them up.  I thought I would try Mint.com, since they just launched the Canadian version of the software.
Mint.com is a website where you can sign up for a free account and use their online budgeting software.  You add your various bank accounts and Mint.com will collect all the information automatically.  You can easily set up a budget or do reviews of your spending habits.
Setting up your account with Mint.com
Creating an account was very simple and very quick.  It's also free.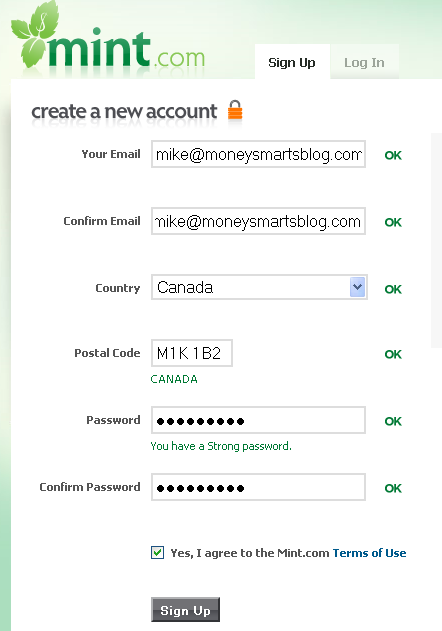 Once I had a login, I tried adding my CIBC accounts.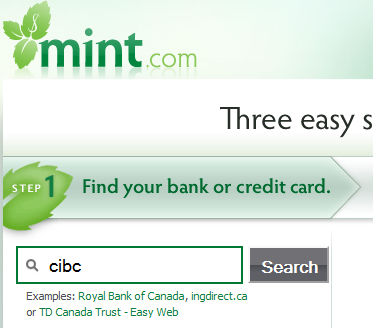 Once the financial institution is found, the next screen asks for the bank or visa card number and password.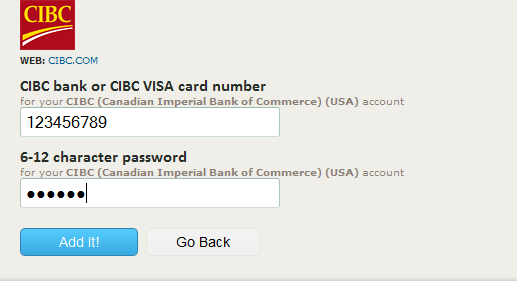 I had no problem adding my CIBC accounts, however the first problem is that it added all my CIBC accounts – in fact I only wanted to add my personal chequing account and personal visa in one profile and then have my business visa (also with CIBC) in another profile.
I think if I were to use this software for proper budgeting, I would have to set up a labeling system to separate the personal accounts from the business accounts.
One thing I wanted to do was add up all my Enbridge gas payments.  I clicked on the account and it showed all the transactions in a scroller.
One neat button is a "Show all XXX" where XXX is the transaction you have highlighted.  By highlighting the last Enbridge payment and selecting the button "Show all Enbridge", it showed all the recent Enbridge payments.  This is precisely the function that I need to help me assemble my tax information.

It appeared to only show transactions from the last three months. which is not what I wanted.  I did some research and unfortunately Mint.com can only pull up to three months of historical data at a time.
They do have a manual "add transaction" function, which is useless since I'm not going to spend hours adding many transactions one at a time.  What they really need is a data upload function.  You would download your historical transactions from your account and then upload them to Mint.com in one step.
Nonetheless, if you sign up for Mint.com and don't delete your account – they will continue to add your data and eventually you will have a useful amount of historical data.  I really like the automation involved with Mint.com and I can tell you that the interface is fantastic.  My plan is to keep my account activated and then I will try it again next year (when I have enough data) to help with my 2011 taxes.
I also have a chequing account at PC Financial, which I use for my business activities.  I added this account without any issues, although it also only loaded three months worth of data.
Who can use Mint.com right away?
If you are just starting a budget and want to keep track of your finances, having three months of historical information should be more than enough.  You can add your accounts, categorize transactions the way you want and then budget to your heart's content.  Mint.com will automatically put all transactions into a category.  These can be changed at anytime and Mint.com will "learn" from your correction for future transactions.

Other features of Mint.com
I haven't spent a lot of time on the budgeting features, however some of the neat one are:
Targets and notifications – You can set a maximum amount you want to spend on a particular expense and Mint.com will send you email notices if you go over budget.
Set up a budget – Once you input your income and budget categories – Mint.com will tell you how much you should have left over for saving.
Trends – The trends feature allows you to see spending or income for any particular category over time.
How much does Mint.com cost?
Setting up an account at Mint.com is easy and best of all – free!  Keep in mind however, that Mint.com makes money from financial institutions which it recommends, ie it might recommend a "better" credit card based on your spending.  If you sign up for that credit card – that company will pay money to Mint.com.  I would suggest one the following strategies, when facing a recommendation from Mint.com:
Take any recommendations with a grain of salt.  You might very well benefit from their recommendation, but don't just blindly assume that is the case.
Ignore them completely.
Main benefits of Mint.com
Free – Can't beat that price.
Automatic data download – I love this part – once you add your accounts, you never have to add any kind of data again.  All automatic.
Great interface – The interface or user screen is awesome.  It looks good, it feels good and I had no problem figuring out how to do things I wanted.
Here is a quote from Red Flag Forums, which I completely agree with:
But man alive, THAT is how you design a website. It is amazing how easy it is get started with it.
Main drawback of Mint.com
Initial historical data only goes back three months.  For most people, this might not be a problem, but it is a problem for me.  I'm going to remain a client and then next year I'll have enough historical data (data for all of 2010) to be useful for my taxes.
Can't do data upload of historical transactions.  This feature would be a reasonable work-around for the first drawback.
What about security?
I've been banking online for what seems like my entire adult life.  At this point, I can't honestly say I have any concerns about security or that I'm willing to do anything about them.  The only difference with Mint.com, is that it assembles all of your account information in one place, rather than regular internet commerce where your info is spread around.
Realistically, if someone could hack into your computer – it wouldn't matter whether you use Mint.com or not – all of your information will be available.
What do you think?  Is Mint.com superior to desktop software packages like Quicken or You Need A Budget?

More reviews
See Mr. Cheap's review of Mint.com.