The post is part of the Baby Expenses Series. See the entire series here.
This baby post was unplanned (pardon the pun) – it resulted from a comment left on yesterday's post.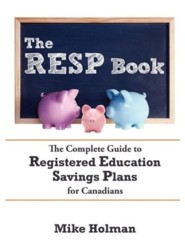 Money Gardener left a comment in yesterday's post asking how I handled the lack of income while I was on parental leave – quick answer is "not very well" 🙂.
The good news is that it was more or less temporary because I got a "top up" from work during my time off, the only catch is that I didn't get the money until I went back to work but taking a short term loan to cover was not expensive. Between getting EI benefits and the top up (100%) I ended up getting full pay although I had to wait a while to receive it all.
A more typical scenario involves the mother taking a big financial hit by not getting paid for a year except for EI payments. Even if they get a top up from work, usually it only lasts for a fraction of the maternity leave. For dad to take even a month off at no pay (I'm assuming no top up), it might be pretty tough. Unfortunately there is no easy way to handle this.
Although it's different for every family, this is the one time I would suggest that taking on some debt to cover a short unpaid parental leave (say one month) might be worth it. My reasoning for this is that you won't get too many opportunities to take parental leave so you should try to take advantage of it. Once both parents are back at work then they will be getting their full pay (minus daycare) so the extra debt can be dealt with then. Obviously if your finances aren't very strong to begin with then this might not be a good idea.
Most of my friends who had similar situations basically cut back expenses as much as they could, borrowed if they had to, even cashed in some rrsps if necessary (this isn't such bad strategy if mom's income is low for that year, although it should be avoided if possible). I also know people where the mother had to go back to work early because they couldn't afford the one year maternity leave.
My best advice for couples who are thinking about having kids sometime in the future is to work on improving your finances as much as you can. The better shape your finances are in, then the more options you have when it comes to things like maternity leave and parental leave.
Next Baby Expense post.