The post is part of the Baby Expenses Series. See the entire series here.
In Canada, new mothers are allowed by law to take 52 weeks off from their jobs. This time off is called maternity leave. During that period they are eligible for employment insurance (EI) benefits which are calculated as 55% of their normal earnings up to a maximum salary of $40,000. Some companies also offer a "top up" which usually involves paying the difference between what the mother gets from EI and some percentage of their normal salary. The top up amount and duration will vary from company to company – I'd be interested to hear what your company offers?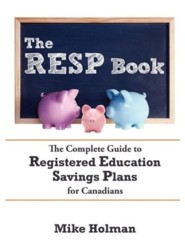 New fathers are allowed to take up to 37 weeks off which is called parental leave however the EI benefits that are paid out have to be shared between the mother and father so they can't both collect EI benefits at the same time. In my case my wife didn't qualify for EI since she wasn't working so I was able to collect EI benefits when I took my parental leave. The "top up" feature available to new mothers at some companies is also available to new fathers in some cases. At my company, most dads don't get any EI since their wife gets all the EI benefits so their top up is calculated as though they were getting EI.
One misconception which I've heard from a number of my friends is that the time off has to be shared between the two parents and can't total more than a year – this is not true, only the EI benefits have to be shared.
The EI benefits is calculated as 55% of the mother's salary up to a salary of $40,000. The first two weeks of the maternity leave are unpaid so the EI benefits actually start on the the third week. My salary is more than $40k so I received the maximum benefit which is $413 per week. The actual payment after tax ($48) was $778 which I received every two weeks. In my case the withholding tax wasn't enough but I think my company adjusted for it because I didn't owe anything at tax time. You should keep in mind that you might end up owing some money at tax time because of this. You can get the withholding tax increased if desired.
The way to apply for EI is to go online at here. This contains all the steps you need. It also contains a link to the Quebec parental insurance plan which is different than for the other provinces. Basically you go online and fill out the required information and they will send you a pin number which will allow you to go here and see your online information. One of the items you will need from your employer is a form called "Record of Employment" which basically lists your financial employment for the past year. I went into my local Service Canada Centre when I got this form in order to complete my application. Applying for EI is not something you can do in advance, you have to wait until you have finished work before applying.
Something to keep in mind is that it will take about four to six weeks to get your first EI benefit deposited into your bank account, so don't count on getting any money right away. Usually once you start getting them, you'll get two or even three payments right away and then every two weeks after that.
When I was receiving EI benefits, I used the reporting feature of the online account to fill out my report every two weeks. This report basically says that you aren't looking for work, are still not working etc. However in researching this post I realized that you can sign a declaration of exemption when applying which means you don't have to fill out the reports every two weeks.
Tomorrow, I'll be starting a series of posts where I take a look at the essential items that new parents should have.