I started running regularly a few months ago and really enjoy the exercise. However, since our second child was born, I've had a really difficult time getting out jogging. It's hard to run during the day since I am usually looking after my son (the older one) and at night I often help out with the little one so that mom can get some sleep. I decided to buy a jogging double stroller which will allow me to go running and look after one or both of the kids at the same time. Jogging strollers tend to be expensive and I didn't want to pay too much for it. I figured that $300 would be a good upper limit.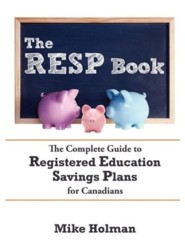 As I concluded in my baby expense series, "used" is the way to go – so I looked on Kijiji and Craig's List for a used double jogging stroller. On Kijiji I didn't see any for sale except for one really nice one that had an asking price of $675 – no thanks. I put up a "wanted to buy" ad and then moved on to Craig's List. There I found three good possibilities which were all posted that weekend. They were listed at $120,$150 and $175. I sent out the emails and the $150 offer responded right away. I asked if he would take $100 and his response was that he would take the highest offer received by the next day. I assumed that either he had received more emails about the stroller or he was playing me to get more money! Either way, I would have been fine paying the asking price of $150 so I emailed back an offer of $130 and he accepted right away. When I picked up the stroller the next evening he told me there were quite a few emails offering to buy it and mine was the first one. The stroller looked good so I took it. It was a Baby Trend Expedition double jogging stroller.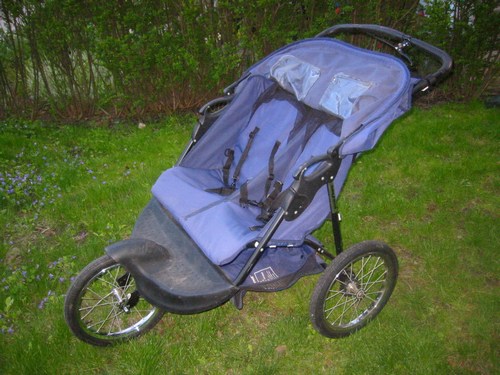 The next morning I loaded up my son and the three tires from the stroller up in the wagon and we went down to the local gas station to pump up the tires. After assembling it, we took it for a test "run" and it worked great. Later that afternoon I went for a jog with my son and I have to say that I was pretty happy with the stroller. It is definitely an adjustment since running with your hands on the stroller bar is a lot different than running hands free. There is a safety strap on the bar which you put around your wrist (in case the stroller goes faster than you do) and there is a hand brake as well. The stroller literally will not turn unless you lift the front wheel a bit. One drawback is a lack of storage underneath – we had hoped to be able to use this stroller as our "shopping" stroller as well but I think we will end up buying a cheap double stroller for that purpose.